Lunchtimes
Lunchtime
For many pupils, lunch is the principal meal of their day. Meal times should be relaxed and fun whilst also providing all the ingredients necessary to assist with pupils' concentration and learning.
Children in years 3 and 4 have lunch between 12.00pm and 12.45pm. The Year 5 and 6 lunch-break is between 12.45pm and 1.30 pm.
All children eat together with their class in our dining room. We are a Healthy School so our hot dinner menu provides children with a balanced and nutritious meal. Menus are available in every classroom and are updated every three weeks.
Ordering Lunches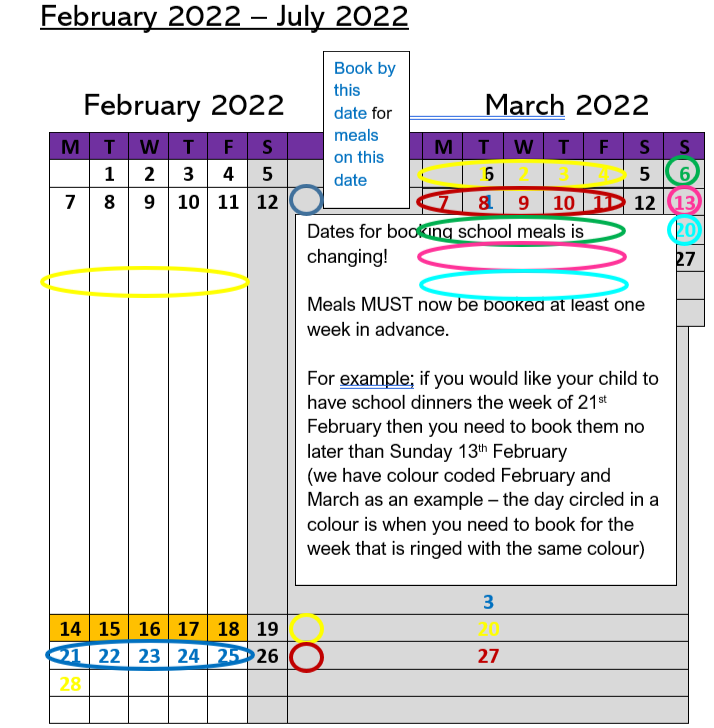 Feb - Jul 2022 lunch booking deadlines

Packed Lunches
There is a healthy packed lunch policy at the Academy and all parents/carers are expected to ensure that their children are provided with balanced meals at lunchtime. Please support us by providing low sugar non-fizzy drinks, fresh fruit and/or raw vegetables. Do not put sweets, high energy drinks, chocolate bars or nuts into any packed lunches.
For those parents who have to pay for meals you must pay for these in advance on Mondays. It is easier for you and the Academy if the money is given by your child to the class teacher – it supports their independence and saves you from queuing at reception. We will not supply your child with a lunch if you have not paid for it except in unusual circumstances.
Food allergy and food intolerance
Individual care plans are created for pupils with food allergies. These document symptoms and adverse reactions, actions to be taken in an emergency, and emergency contact details. The Academy caterers are made aware of any food allergies or food intolerance and requests for special diets are submitted through an agreed process.
Food prepared by the Academy Catering Team meets the national standards for school lunches (www.schoolfoodtrust.org.uk).
Free School Meals
We strongly encourage all parents/carers of children entitled to free school meals to apply for them so that both the Academy and the children can benefit. Not only do the children benefit from a healthy meal, but the Academy is also given extra money from the government to support the learning of all children in the Academy.
If you are entitled to free school meals please speak to a member of the office team so that your child can receive a nourishing meal every lunchtime.
If you think you may be eligible for Free School Meals, click here for further information.
Break Time
Every year group has a short break in the morning and we encourage children to bring healthy snacks into school. Please do not send nuts or nut products as we are a nut-free Academy as some children are allergic.