The Pastoral Team
Mrs Day
Please contact if you need support or advice with anything related to Safeguarding, inclusion or Special Education Needs.
Karen Keymer
Please contact if you would like any family support.
Hello! My name is Karen Keymer and I am the Family Support Worker in school. I am a mother of two and have worked with children and families for the past 20 years. My role in school is to provide support, advice, and information to families within our school community. I can help you with any worries that you may have in relation to your child's education, behaviour and wellbeing. I am also here as someone to talk to if you need it.
Dean Papworth
Please contact if you have any issues to discuss regarding behaviour, safeguarding or early help assessments.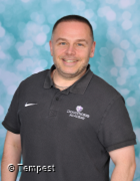 Hi, my name is Dean Papworth, and I am the Behaviour Support Manager for Dogsthorpe Academy. For over 15 years now I have supported children of all ages with regulating their behaviour. Within school I offer one to one support for social, emotional, and behavioural issues. For many children, simply having a friendly face at school to talk to can have a very positive impact on their behaviour and mental health. If you feel that your child could benefit from additional support, then please contact our school directly for further advice.