Vocabulary
Vocabulary
At Dogsthorpe Academy we believe that children should be inspired by new vocabulary and have the opportunities to be exposed to new words on a daily basis. Words are fantastic and the foundation of everything we teach. It is important that children are exposed to a wide range of words across a range of topics. Lots of research show that vocabulary can be split into 3 tiers.
Tier 1 - Everyday words that we use in communication. These words seldom need any direct teaching and are learned through conversation. E.g happy, sad, hungry, scared, run, play etc

Tier 2 - Words found in many content areas. They are high frequency words that need some amount of teaching across the curriculum. E.g hilarious, endure, arrange,
Tier 3 - Subject specific words that only appear in specific topics. E.g tundra, composition, algebraic
Vocabulary Ninja Games can be found here
In March 2020 Mrs Colam wrote an article on Vocabulary for Ben Cooper at WAGOLL teaching.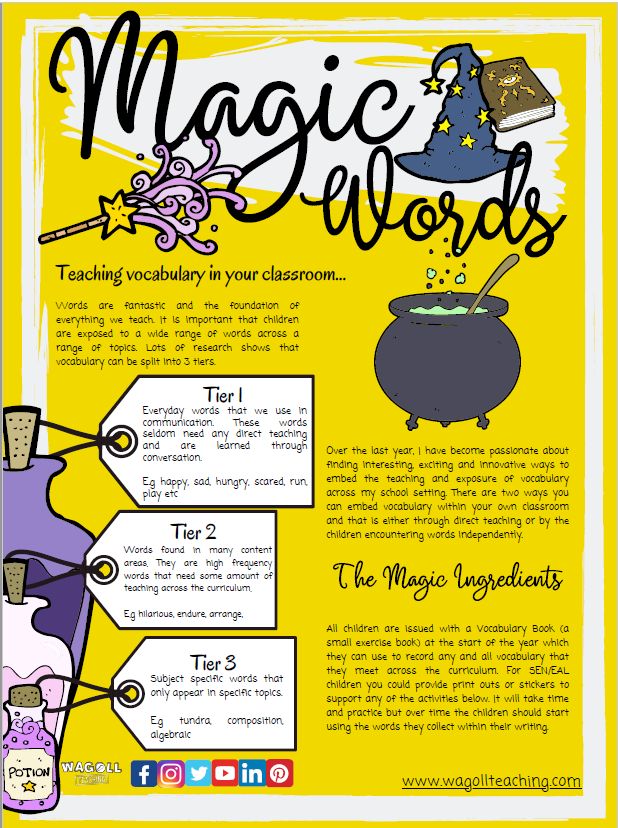 Coming at the end of 2022 - Primary Teacher Solutions: Ready Pedagogy and Inspirational Ideas - Including work by Mrs Colam on Vocabulary.